The visit of the British Prime Minister, Theresa May, to South Africa on Tuesday 28 August as part of her delegation's tour of three African countries (South Africa, Nigeria and Kenya), provided an unprecedented opportunity to showcase pioneering women's entrepreneurship on the continent. The prestigious South Africa-UK Business Forum, held in the beautiful city of Cape Town, brought together an audience of captains of industry and leading government officials, for a day of business conversation and networking. Lionesses of Africa together with Future CEOs co-hosted a panel discussion featuring four inspirational women entrepreneurs from the Lionesses of Africa community representing Swaziland, Zimbabwe and South Africa.
The event kicked off with welcome remarks from Emma Wade-Smith, OBE, Her Majesty's Trade Commissioner for Africa, who then introduced British Prime Minister, Theresa May, to the podium to deliver a keynote address. In a wide ranging speech which focused firmly on the theme of partnership, she said: " I want to create a new partnership between the UK and our friends in Africa, one built around our shared prosperity and shared security. As Prime Minister of a trading nation whose success depends on global markets, I want to see strong African economies that British companies can do business with in a free and fair fashion. Whether through creating new customers for British exporters or opportunities for British investors, our integrated global economy means healthy African economies are good news for British people as well as African people."
The Prime Minister also stressed the priority of job creation in Africa, sharing her experience of meeting a young school girl during her visit to Cape Town who impressed her with her aspiration to become an entrepreneur so that she could create jobs for people in her community. This was a Young Lioness in the making!
Following the opening plenary session, the audience had the opportunity to listen to the Pioneering African Businesswomen panel discussion, co-hosted by Lionesses of Africa founder and ceo, Melanie Hawken, and Executive Director of Future CEOs, Hlubi Mboya Arnold. The panelists represented some of the most successful women entrepreneurs from the SADC region - Divine Ndhlukula, CEO of Securico in Zimbabwe; Mellisa Mazingi, Managing Director of Gone Rural in Swaziland; Ntsiki Biyela, CEO of Aslina Wines in South Africa; and Swaady Martin, CEO of Yswara in South Africa.
Giving the opening remarks at the panel discussion, Lionesses of Africa founder and ceo, Melanie Hawken, said:
"The women we've selected from our community represent a cross-section of SADC countries, industry sectors, and also businesses at various stages of development. What I can tell you is that each of the women you are about to meet are game-changers in their respective countries and industries. And, I use the word game-changer quite deliberately, because we passionately believe women entrepreneurs can bring about game-changing impact for Africa."
Chaired by Hlubi Mboya Arnold, the lively panel discussion gave the opportunity for each of the invited women panelists to share their personal stories of how they had built and grown their businesses on the African continent. The session began with a video produced specially for the event, introducing the topic and the key role-players. The panel discussion got underway in earnest with each of the women entrepreneurs sharing their experiences of doing business with the UK market, and their future aspirations to take their businesses into new global markets.
The panel discussion was closed by Melanie Hawken who shared with the audience her insights on making an impact between the UK and Africa through collaboration and partnerships. She talked about the current collaboration between Lionesses of Africa and the London Stock Exchange Group on the Companies to Inspire Africa initiative. She gave practical examples of the impact made from the Startup Night! Africa events in London and Berlin showcasing Africa's women entrepreneurs in key global centres. And, she announced the planned opening of the Lionesses of Africa London Office in 2019, providing a gateway into Europe for Africa's women entrepreneurs.
In her closing remarks, Melanie Hawken said:
"I can assure you that regardless of what industry sector you come from, we have women-led businesses across our community and the African continent who are relevant to you and will spark your interest. Africa's women entrepreneurs are open for business. Let's make those connections and hopefully start building those business relationships today."
Following the panel discussion, a networking lunch provided the opportunity for guests to meet with the women entrepreneurs and to see their products and services at first hand in a dedicated exhibition/networking area. On display were a selection of wines from Aslina Wines, luxury teas from Yswara, and a wide selection of beautiful woven luxury decor items from Gone Rural.
Learn more about the showcased women entrepreneurs from Lionesses of Africa
Founder of Yswara
Country: South Africa
Sector: African luxury tea brand
Website: www.yswara.com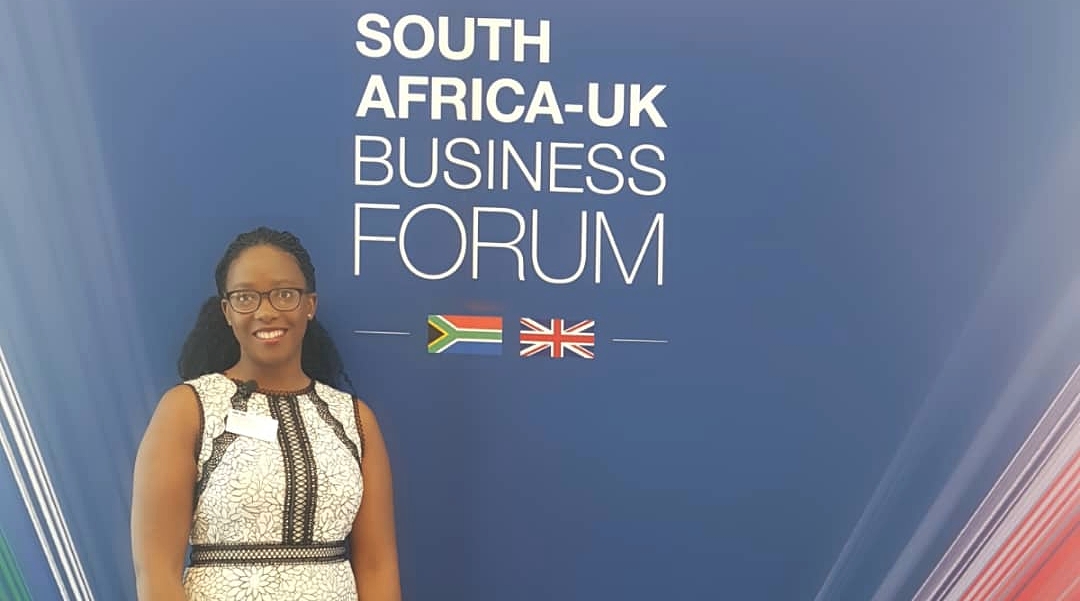 Managing Director of Gone Rural Swaziland
Country: Swaziland
Sector: Artisan Handicrafts
Website: goneruralswazi.com