By Melanie Hawken, founder and editor-in-chief, LionessesofAfrica.com
2015 looks set to be an exciting year for African luxury brands, with many confidently announcing themselves on the global scene with a bang. If your weakness is handbags, then there is no better time to add a luxurious, hand-crafted African-made piece to your wardrobe. Meet 5 fresh, women-led brands who are successfully re-interpreting ancient design, centuries-old craftsmanship and unique materials into the perfect Afro-luxe accessory. All crafted sustainably, produced ethically and rooted in a deep sense of social responsibility. What's not to love!
For decades, handbags have been the ultimate accessory and status symbol for women around the globe – think back in time to style icons Jackie Onassis, Coco Chanel, and of course the veteran British politician Margaret Thatcher, all of whom were never seen in public without their ubiquitous, ultra stylish handbags. Today's power women spend significant time, effort and money on ensuring their handbag speaks volumes about themselves, their personal style philosophy, and their place in society. However, for 2015, watch out for a shift away from the iconic designer bags of Paris, Milan, London and New York, as the hottest handbags on the planet are now woman-made in Africa, and are the latest must-have accessory. This year, the emphasis is not simply on luxury and unique design style, although Africa's woman handbag designers exude it by the bucket-load. It is also about creating highly desirable and beautiful handbags that have a great social entrepreneurship back-story to tell, with an emphasis on sustainability, a positive eco-footprint, and ethical production practices helping to improve the lives of African craftspeople.
Here are some of the hottest African luxury handbag designers to look out for in 2015….
Hanneli Rupert, founder and owner of Okapi in South Africa
Hanneli Rupert's handbag line, Okapi, definitely fits the bill of highly desirable, African luxury, must-have accessories. It is an all-African brand, successfully merging the finest luxury with traditional artisanal skills and uniquely African materials. Each element of the bags, from her trademark female springbok horns, to the supremely soft calf leather and highly sought after ostrich skins, are sourced from sustainable farms in Southern Africa, as are the labels, the lining and the packaging. Hanneli is one of a new breed of African designers that believes in the power of merging social entrepreneurship with luxury. Her range of Okapi handbags is both artisanal and luxurious, inspired by this unique and mysterious African animal that to many, resembles a unicorn. The brand encompasses elements of Art Nouveau, African mysticism and organic elements taking inspiration from nature and ritual, resulting in unique handbags that are both tribal and exotic. A signature Springbok horn talisman is found on all the bags. The emphasis is on world-class leather craftsmanship combined with a distinctive African luxury feel. Hanneli's manufacturing philosophy focuses on producing the highest quality of end-product, leveraging on the millennia's worth of natural history and craftsmanship that exists on the continent. She is also highly committed to nurturing local
skills development and creating employment opportunities for African craftspeople. Through investigating the local African luxury market via her Okapi handbag range, she decided to open an entirely African concept store on the continent, Merchants on Long in Cape Town, South Africa, which stocks all the top African designer brands, including Okapi.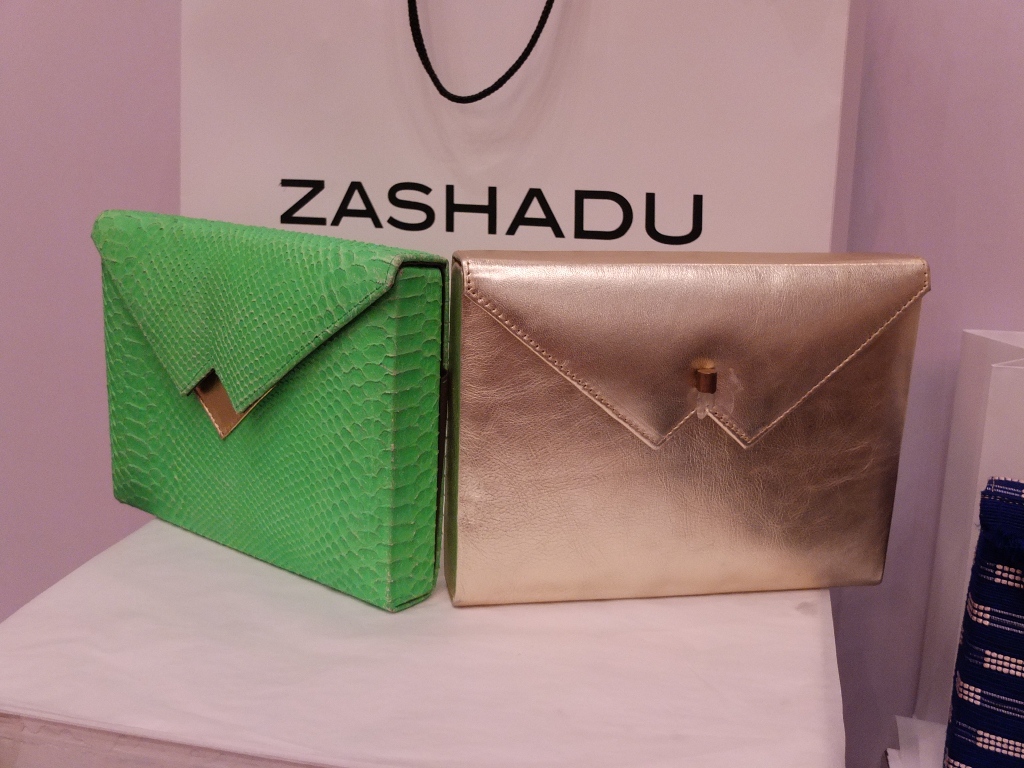 Zainab Ashadu, founder and owner of Zashadu Bags in Nigeria
Nigerian entrepreneur, Zainab Ashadu, has had a love affair with handbags since she was a small child. Her early inspiration came from her mother's sense of style and her appreciation for beautiful accessories. One of her earliest memories is falling in love with a beautiful Art Deco-style clutch bag that belonged to her mother. It was this life-long love of handbags, together with her own vast personal collection of vintage bags built up during her time working and living in London for 12 years, that inspired Zainab Ashadu to start her own company, Zashadu Bags. Today, her company specializes in creating beautiful, sustainable luxury leather handbags, trendy backpacks and pouches, all handcrafted using locally sourced materials including leather, exotic skins and rough cut semi-precious stones. She operates out of a Lagos-based workshop, working with her team of highly gifted local artisans, who hand craft the products from her distinctive designs. Zashadu sells its luxury handbags locally and internationally on its website, with the brand's iconic box clutch bag and the unique The Justice Python Collection, both described in the marketplace as a "collector's dream". Zashadu Bags have been picked up by London-based retailer, Wolf & Badger, and her range of must-have African luxury handbags and trendy backpacks products will be available in Paris later this year. Moving forward Ashadu plans to work with more women in the production of Zashadu Bags. This is one African handbag designer destined for big things globally in 2015 – watch this space.
Akosua Afriyie Kumi, designer and founder of AAKS in Ghana
Ghanaian Fashion designer, Akosua Afriyie-Kumi, returned to her home country after studying design at London's Kingston University where she gained a wealth of practical experience and design expertise working with some of the UK's leading fashion designers. Her singular focus was to produce luxurious handmade accessories using ethical processes and age-old African craft traditions, and to build a true African luxury brand that would appeal to global buyers. Today, her company AAKS, produces highly desirable raffia bags of the finest quality, all handmade by a women's cooperative in the northern part of Ghana. She is at the forefront of what is rapidly becoming a resurgent and highly desirable fashion and textile industries in Ghana. She identified a gap in the market for beautifully handcrafted luxury bags that utilise locally sourced materials such as raffia, coupled with innovative contemporary designs that celebrate the traditional art of weaving. She was able to take advantage of the wealth of resources in the country to fulfill her design dreams, such as textile factories and the creative and highly skilled talent of small weaving communities. Her design aesthetic embraced the traditional techniques such as tie-dye, weaving and batik, all of which are currently being revived on an international level by the world's leading designers. As a result, her uniquely beautiful handbags are not only highly desirable in the global luxury accessory marketplace, but they are also showcasing local skills, whilst at the same time, pushing the boundaries to support the industry and create more employment opportunities in Ghana.
Recently, Akusua showcased her handbags at the "Africa on the Catwalk" fashion show that was part of the recent Africa Utopia festival at London's South Bank Centre. The recently launched collection of highly desirable raffia bags were also included in ethical design brand Shake the Dust's Africa Calling exhibition at the festival.
Buki Akib – Designer, founder and owner of Buki Akib of Ghana
For the global handbag afficionado, there is no better way to capture the feel of West Africa's pulsating rhythms and unique heritage than in designer Buki Akib's luxurious fashion accessories, in particular her handbags. This highly talented and stylistically adventurous textile and accessories designer has had an interesting entrepreneurial journey – she was born in Lagos, Nigeria, left the country to study fashion design in London, and today lives and works in Accra, Ghana. Her hallmark design approach reflects her colourful background – she creates lavishly embellished, offbeat fashion accessories that meld her West African heritage with a contemporary outlook that has a global appeal. Her most recent collection of handbags was a runaway hit at the cult concept store Darkroom in London, where astonishingly, they sold out within a single day. Called the Wives collection, it was inspired by 1970's extravagant Nigerian nightclub showman, Fela Kuti, who had 27 wives, all of whom were largely shunned by a society who viewed them as disreputable. Buki's design approach was to aesthetically revisit their place in history, courting controversy by recasting them as figures of unashamed femininity, interpreting their beauty and sexuality as a form of empowerment. The result was a highly unique and sensuous collection of luxury handbags incorporating handwoven Yoruba textiles and embellished with leatherwork accents, all of which were tooled by highly skilled specialist artisans in South Western Nigeria. Details such as sensuous fringing and playful multi-coloured pompoms are a nod to the lustrous world inside the legendary Nigerian showman's nightclub Shrine. As with many other African designers, storytelling is at the heart of Buki's brand essence, looking to the heritage of West Africa for creative inspiration. She is also highly committed to supporting social enterprise in Africa, working with a team of highly skilled weavers in Lagos, and running a production facility in Accra, Ghana. Her future plans see her setting up a new social enterprise venture, with the support of the Ghanaian government, to open a local factory that will help reignite the local textile industry and keep traditional artistry alive. Buki Akib is an African luxury handbag designer with a deep social conscience – one to watch in 2015.
Abai Schulze, founder and creative director of ZAAF in Ethiopia
For anyone owning a luxury, handcrafted leather ZAAF handbag, it is not only a thing of beauty to be treasured, but it is also a piece of Ethiopian heritage and craftsmanship to be appreciated. The inspiration behind the ZAAF Ethiopian luxury handbag brand is its founder, Abai Schulze, a woman with a vision, considerable creative drive, and a genuine love of her country's craftsmanship. Despite leaving her homeland of Ethiopia as a child for the United States where she was brought up in an orphanage until she was adopted by an American family at the age of 11, she never lost sight of her heritage. Today, that love of her native culture has brought her back to her home country, where she is passionately building a luxury Ethiopian fashion brand of leather accessories produced by highly skilled artisans in the country. The name ZAAF was inspired by the word that means "tree" in the ancient and noble Amharic language. Every handbag and accessory designed by Abai draws its inspiration from a particular region in Ethiopia, and is crafted with the finest materials that come from natural resources unique to that region, making it truly authentic. The textiles used by Abai and her team for the ZAAF collections are inspired by colours, textures and timeless patterns from that ancient culture, all made on a traditional Ethopian loom, yet adapted for use in elegant, contemporary designs. Her work is attracting recognition from around the world, and in December 2014, she was awarded the UNESCO Tremplin 2014 Prize for Entrepreneurship for her efforts. For those who want a handbag that has a unique African history to match its luxury aesthetic appeal, then a ZAAF handbag could be the ultimate must-have accessory. Abai Schulze is one African luxury handbag designer on the fast-track to success in 2015.
So, for all those devotees of luxury handbag brands around the world, take note - the hottest handbags on the planet for 2015 are women-made in Africa. To read more about this inspirational group of African luxury handbag brand builders, go to LionessesofAfrica.com
Melanie Hawken is an entrepreneur, writer and global communications specialist. She is the founder and editor-in-chief of Lionesses of Africa, an online community that is the digital home to Africa's women entrepreneurs. Melanie has founded several companies and has years of experience in publishing, public relations and strategic communications living and working in Europe, the Middle East and Africa. She presently resides in Johannesburg, South Africa. Visit LionessesofAfrica.com to learn more.